Holiday / Christmas
Crayola™ Medium Gingerbread House Kit
Unleash your creativity with Crayola™ this holiday season! This easy to build Crayola™ Medium Gingerbread House Kit is sure to bring your holiday traditions and imagination to the next level!
This kit includes 6 pre-baked gingerbread cookie house pieces, pre-made white icing pouch with decorating tip, blue blizzard, garland green, ribbon red and yuletide yellow E-Z Soft & Squeezy™ icing writers, an assortment of colorful festive candies, red paintbrush and Crayola™ character cut-outs! The E-Z Build® tray makes building and decorating easier than ever!
Enjoy building and decorating this Crayola™ Medium Gingerbread House Kit during the holidays with friends and family. Decorating Tip: Use red paintbrush to decorate the roof panels and create unique patterns.
Allergy Information
CONTAINS WHEAT, SOYBEAN.
MAY CONTAIN EGGS, MILK.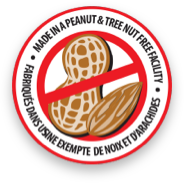 Made in a peanut & tree nut free facility
Step 1: ICING BAG PREPARATION:
Knead/massage the icing pouch for 1 – 2 minutes bringing icing to room temperature and making it more adhesive. Cutting the icing tip: Remove cap and snip the tip 1/4″ from the end. Your icing is now ready for assembling the HOUSE.
Step 2: ARRANGE HOUSE PIECES FOR ASSEMBLY:
Lay out house on table. Line the 4 canals of E-Z Build® Tray with a strip of icing. On the reverse (rough side) of front and back panels as shown, pipe a thick line of icing.
Step 3: ERECT WALLS:
Using E-Z Build® Tray, insert back panel of house into the canal, then press side wall up against icing strip. Add second side wall and front. Adjust walls to create a good rectangle prior to putting on roof pieces.
Step 4: APPLY ICING TO HOUSE PEAKS:
Pipe a thick strip of icing along roof edges of front and back panels. Add Roof: Attach roof panels to house peaks and hold in place for one minute. Then line a strip of icing down the middle of the house. Hold in place for another minute while icing sets. Wait 15 minutes prior to decorating your house.
Step 5: ICING TUBE INSTRUCTIONS:
Cut the end of the icing tube in small amounts. Do not cut too large or you will lose detail when decorating. Now you can decorate your house. TIP: To cover the roof with icing as shown on the box, squeeze a small amount of icing onto the roof and spread icing with a very wet paintbrush. Work in small patches until the roof is covered.
Ingredients
INGREDIENTS: GINGERBREAD: ENRICHED WHEAT FLOUR (WHEAT FLOUR, NIACIN, REDUCED IRON, ASCORBIC ACID ADDED AS A DOUGH CONDITIONER, THIAMINE MONONITRATE, RIBOFLAVIN, ENZYME, FOLIC ACID), SUGAR, PALM OIL, MOLASSES, WATER, SPICES, LEAVENING (SODIUM BICARBONATE), SALT. ICINGS: SUGAR, WATER, PALM OIL, CORNSTARCH, HIGH FRUCTOSE CORN SYRUP, CORN SYRUP, MODIFIED CORNSTARCH, SALT, ACETYLATED MONOGLYCERIDES (EMULSIFIER), ARTIFICIAL FLAVOR, POLYSORBATE 60, COLOR (TITANIUM DIOXIDE), POTASSIUM SORBATE (PRESERVATIVE), CITRIC ACID, FD&C RED #40, FD&C YELLOW #5, FD&C BLUE #1, FD&C YELLOW #6. GUMBALL: SUGAR, DEXTROSE, CORN SYRUP, GUM BASE (SOYBEAN), NATURAL AND ARTIFICIAL FLAVORS, GLYCERIN, CONFECTIONER'S GLAZE, TAPIOCA DEXTRIN, CARNAUBA WAX, FD&C YELLOW #5, FD&C YELLOW #6, FD&C RED #40, FD&C BLUE #1, BHT (TO MAINTAIN FRESHNESS). MINI JELLIES: SUGAR, GLUCOSE SYRUP, CORNSTARCH, WATER, CITRIC ACID, SODIUM CITRATE, ARTIFICIAL AND NATURAL FLAVOR, FD&C YELLOW #6, FD&C RED #40, FD&C YELLOW #5, FD&C BLUE #1. STARS: DEXTROSE, CORN SYRUP, CITRIC ACID, CALCIUM STEARATE, TAPIOCA DEXTRIN, TITANIUM DIOXIDE (COLOR), CONFECTIONER'S GLAZE, CARNAUBA WAX, ARTIFICIAL FLAVORS, FD&C RED #40, FD&C YELLOW #5, FD&C YELLOW #6, FD&C BLUE #1.
CONTAINS WHEAT, SOYBEAN.
MAY CONTAIN EGGS, MILK.